At first glance, it seems product managers perform 3 basic functions. But look closer, and it's obvious how complex these responsibilities are.
Typical PM responsibilities (and product management tool categories) include:
Strategy: planning and prioritizing the major projects based on user needs, business goals, and resources.
Execution/Production: Managing people and tasks to move the project forward on schedule and according to the scope.
Reporting/User Research: Understanding and reporting on relative success of the project/product, reporting on the product's added value to the company as a whole, use of these metrics to plan further strategies.
Due to this broad range of the job responsibilities, the job can sometimes feel closer to herding cats than creating products.
However, these three overarching job functions are fundamental for ultimate goal of product facilitation. In order to lead a team and make quick, informed decisions, product managers must utilize the right technology stack.
To make building that technology stack easier, we've curated this list of product management tools specifically for PMs. Each software was included because they play well with other technologies, help facilitate projects efficiently, and are easy to use.
Strategy Tools
These tools help your team build a plan, execute, and analyze your work for future product iterations and projects.
Whether you choose a full-scope data visualization, analysis, and project management tool or a collection of best of breed tools, these options will help keep your team sane, organized, and focused on the larger business goals.
Business Intelligence
BI tools help product managers, executives, and technical ICs understand the business landscape and context in which a the new product will be built.
Use these tools to bring in data from across the company, including CRM, helpdesk, and ERP systems to help you uncover insights about your customers and craft the best strategy for improving your solution.
Domo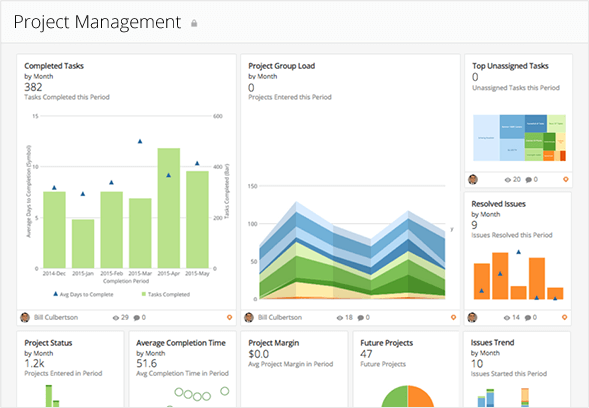 Domo helps teams visualize data from across the organization into a single space, making it ideal for product managers who need to see financials, individual projects, customer support, and code updates all in a single view.
Domo lets teams and product managers build custom dashboards that bring together information from over 500 data sources. The visualizations look pretty great, too.
Microsoft Power BI
Microsoft Power BI is a great tool on its own, whether or not your company has bought into the complete business suite from Microsoft. Power BI integrates with hundreds of data sources including Dynamics 365, Azure, and Excel spreadsheets as well as other non-Microsoft data sources like Salesforce and UserVoice.
Use Power BI to build your data visualizations and then share them on mobile with all stakeholders, or embed them into your internal apps for full visibility.
Roadmapping
Roadmapping tools help you visualize a strategy across several products and build a timeline for releases.
The visual component of these tools helps teams allocate resources in the right place and gain a better understanding of how each of the product projects will impact the overall workload.
Aha!
Aha!'s roadmapping software lets you build projects with goals and objectives to keep the team focused around the most important features. You can use a mix of kanban boards, Gantt charts, and community communication features to track ongoing projects, plan sprints, and gather ideas for your next product or update.
Aha! also has analytics so that product managers can monitor ongoing progress and keep the troops motivated.
Product Plan
Product Plan is a simple roadmapping tool with direct integrations to many project management tools to help you get started.
Move tasks and product initiatives around in Product Plan's Gantt-style dashboard, add tags, and show dependencies to keep everyone on track. One unique feature of Product Plan is the Master Plan, which will show several roadmaps together so product managers can get a full picture of their resource needs.
Project Management
Project management software has become a ubiquitous type of software because it works so well to help organize tasks. A product manager needs this type of tool to not only help the team visualize all the tasks they need to do, but also to more easily address resource and time management considerations.
Asana
Asana is a beautiful project management tool that works for all types of teams — from developers to content managers to manufacturing.
Asana lets you break complex projects down into tasks, assign due dates, track progress, ask for updates, and even send reminders and notifications (to yourself or your team). Asana integrates with over 100 other tools, so you can keep your collaboration, production, and analytics tools in sync.
Monday.com
Monday.com is a flexible project management tool that's built around a "pulse." A pulse can be a task, a lead, or an entire project.
Assign due dates, priorities, and responsible parties to each pulse, and view these in a list, calendar, or Gantt chart to understand resource allocation. Monday.com also includes a place for your scrum team to include a number on each pulse, which can be used to allocate resources and assess priorities.
Production Tools
There are a lot of other technically-specific tools that would be required for each task, but you should also be sure that those niche tools connect with these for optimum performance.
Related: 17 UX Software Tools That Will Make You Better at Your Job
Onboarding
Onboarding software is a sub-category of production tools that help product managers develop higher converting user training experiences right out of the box.
Userlane
Userlane is a user onboarding automation and digital adoption platform designed to maximize software adoption by allowing anyone to more easily learn any digital product.
Userlane changes the way software interacts with humans and not the other way around. Using custom-made interactive guides, this tool explains the key features of your SaaS product while users accomplish tasks live within the application.
The platform is designed to help product managers boost engagement and feature adoption by guiding users to success in the shortest amount of time possible. Getting users to the 'aha' moment faster can also help increase trial-to-paid conversions.
Wireframes
Wireframing tools help product teams move from idea to reality. These tools visualize the product, open it up for feedback from stakeholders, and show changes over time.
Adobe XD
Designers know Adobe for Photoshop, Illustrators, and even their vast store of stock photos, but did you know that you can access their wireframing tool for free?
Adobe XD provides wireframing templates for mobile, tablet, and desktop, and you can preview your work on any device. The tool also allows for sharing with stakeholders to get feedback quicker.
Collaboration
Collaboration is essential to keeping all parts of the product team up to date and on the same page. These tools help teams share digital assets like documents and images and stay aligned as projects become more advanced.
Basecamp
Basecamp excels as both a project management and centralized collaboration tool that lets product managers check in on the status of assets without constantly feeling like they need to ask for updates.
Basecamp lets product managers view updates in a full activity stream or dig in to the status of individual assets from one centralized view.
Google Suite
With documents, spreadsheets, presentations, and collaborative notes and to do lists, Google Suite provides a 360 collaboration tool for any team.
Drive, the file sharing and management tool in Suite, can hold documents and assets of all types. Google Suite is particularly useful for dispersed or remote teams who need to work simultaneously on documents in real-time.
Communication
Right along with collaboration tools, communication tools help the whole team stay on track and can provide a log of ongoing product needs and changes. Use these tools to run remote meetings and standups, solve one-off issues, and make urgent announcements to the team.
Slack
Slack has garnered a lot of attention because it's insanely easy to use, has lots of cool add-ons (think integrations with Trello, Google Drive, and Giphy, to name a few).
Lots of companies already use it as a centralized communication-center for business projects and departmental news. Invite your whole company to chat, or make special rooms just for client stakeholders.
And don't worry about losing important documents, Slack's advanced search features help keep everything organized.
Fleep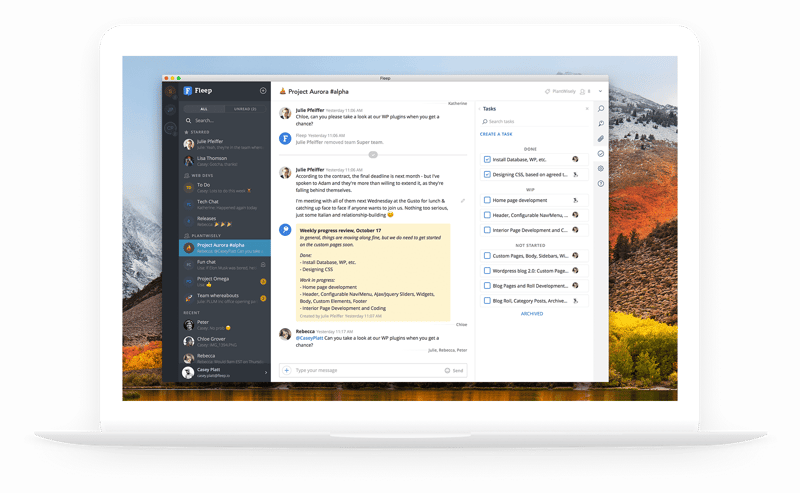 Fleep is a communication messaging tool with many similar features to Slack, plus a few helpful business additions. Fleep lets you message anyone within the organization and anyone who holds a Fleep account.
You can even hold conversations via email with non-Fleep users that get stored in system as well. Look for a file drawer in each conversation that conveniently holds all files shared to that conversation.
Reporting and User Research
Reporting and user research close the loop on any product management project. These tools are valuable sources of data that you can reference in your BI software to help you calculate ROI for each new feature and understand where future improvements can be made.
Customer Service / Helpdesk
Zendesk
Zendesk is more than a virtual helpdesk. It actually includes AI and analytics features that help customer teams and product managers improve how their products serve customers.
Use Zendesk to bring all your customer interactions together, no matter what channel the customer uses to reach out. And with the issues tracker, product managers, support teams, and developers can all collaborate on ongoing issues and work together to solve the day's most important problems.
User Research
UserReport
UserReport is an intuitive piece of software that helps you learn who your users are as well as exactly what they're looking for from your product and website.
UserReport gathers feedback in two ways: an online survey tool and a feedback forum. Both are very straightforward to set up, and they'll both open up valuable channels for customer feedback and user research.
UserVoice
UserVoice brings together feedback from customers, support, sales, and stakeholders to help product managers better plan their initiatives and prioritize new features.
Advanced analysis metrics and integrations to customer and internal communication tools help bring together the right data for ongoing decisions.
***
Product managers have a lot on their hands, but the right technology can make a real difference. However, your problems can become bigger if you try to fix them with just any old software.
Make sure you're using the right tools for the job, that you've got connections to your most important software across the company, and that the software actually makes your life easier.
Tamara Scott is Research and Content Manager for TechnologyAdvice.com. She writes about the intersection of technology, business, and education in Nashville, TN.